Maintaining hair extensions is an essential part of achieving long-lasting and quality results. Proper care can help you keep your hair looking its best, while improper maintenance can lead to damage that will require costly repairs or replacement.
Knowing the right steps for caring for your hair extensions is key to ensuring their longevity and keeping them in top condition. In this article, we'll provide some essential tips on how to care for your hair extensions so they stay healthy and look beautiful for years to come.
Cleaning and Conditioning Hair Extensions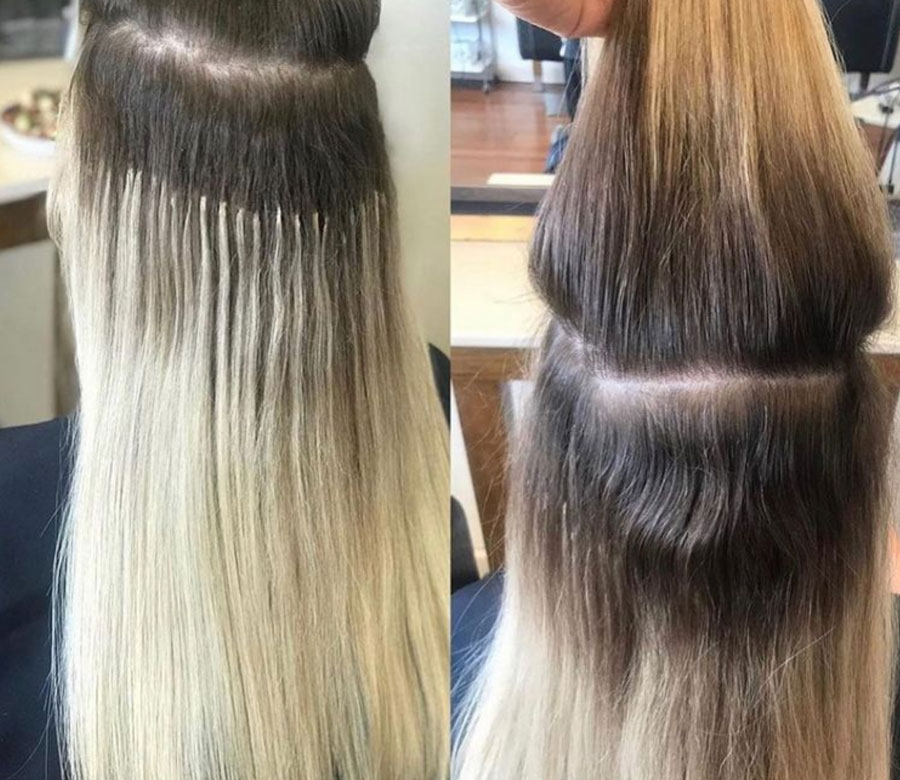 Maintaining and conditioning your hair extensions is an essential part of keeping them looking great and lasting long. Its important to give your hair extensions the same care that you would for your natural hair, but there are some unique considerations to keep in mind.
Regular cleaning with a mild shampoo can help prevent build-up from dirt, styling products and residue from scalp oils. After washing, use a hydrating conditioner or leave-in treatment every few weeks to keep the cuticles smooth and provide extra moisture.
To complete the process be sure to comb through gently with a wide-toothed comb starting at the ends of each strand working all the way up to avoid tangles or breakage.
Brushing and Styling Techniques for Hair Extensions
When it comes to taking care of hair extensions, brushing and styling techniques are essential for maintaining their longevity and quality. To properly brush hair extensions, a soft bristle brush is recommended as this minimizes breakage.
Its important to detangle the hair from the bottom up using small sections at a time. Afterward, use a wide-tooth comb or paddle brush to smooth out any tangles that remain in larger sections of the extension.
To ensure quality results when styling with heat tools such as curling irons or flat irons, try using products specifically designed for hair extensions like leave-in conditioners and thermal protectants. When applying these products be sure not to apply too much product near the bonds as this can cause damage over time.
As you style your hair always start from lower heat settings first before working up in temperature if necessary; higher temperatures should only be used on very coarse strands and never left on one section of curls or straightening for too long – just pass through each section no more than 2 times! Finally, once you have achieved your desired look finish off with hairspray or finishing serum – this will help keep everything in place so you wont have to worry about re-styling during wear!
Protecting Hair Extensions from Damage
When it comes to protecting hair extensions from damage, proper maintenance is key. To ensure longevity and quality for your extension pieces, the following steps are essential: 1.
Brush Your Extensions – Always use a soft-bristled brush that wont snag or pull on your extensions when detangling them. Start at the ends of the hair and work upwards in small sections until all knots have been removed.
2. Wash Gently – Use lukewarm water and a moisturizing shampoo specifically designed for hair extensions or synthetic fibers to avoid drying out the strands.
Apply conditioner only from mid-lengths to ends of your locks to prevent tangling and maintain shine without weighing down your style too much. 3.
Heat Protectant – Before using any heat styling tools such as flat irons or curlers, apply a heat protectant spray which will reduce frizzing and help keep each strand intact while maintaining its natural elasticity. 4.
Avoid Overuse– Try not to overuse heated styling products as excessive exposure can cause dryness leading to breakage or split ends in both natural hair and extensions alike so take extra care when applying heat directly onto your locks! 5 .Go Professional– Having an experienced stylist install, remove, trim or color you're hair pieces will guarantee they last longer while looking salon ready with minimal effort required on behalf of yourself at home
Conclusion
Caring for Hair Extensions is essential to ensure longevity and quality. Taking the time to properly maintain hair extensions can result in a more natural look and feel, as well as help preserve their shape over time.
Following these tips can help keep your hair extensions looking beautiful and lasting longer: brushing regularly, washing with shampoo specifically formulated for synthetic or human-made fibers, avoiding heat styling products like straighteners and curling irons whenever possible, using a wide-tooth comb on wet hair while detangling tangles from bottom up, storing them away from direct sunlight when not in use; and finally deep conditioning with lightweight conditioners every few weeks. With proper care, you will be able to enjoy your hair extensions much longer!